This is a typical acquisition and refurbishment project for Isthmus Properties.
The building had been purpose built as an Indoor Cricket & Sports Centre in 1983 and was still operating as one when purchased by Isthmus in 2005. As such it incorporated an open playing area which was over looked by a comfortable mezzanine lounge & bar. The side walls comprised large corrugated iron louvres which could be opened for ventilation and to create a through draft, necessary in Brisbane's hot climate, but not very secure or functional for any other building use.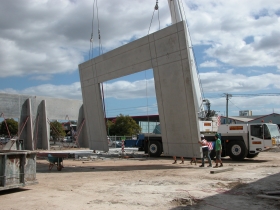 Over the first few months a surrender of the Sports Centre lease was negotiated and refurbishment plans were drawn up to convert the building to a higher and better use.
This culminated in the building being completely gutted, extended to 1,800 sqm, re-roofed, air conditioned and totally refitted as a bulk retail showroom. As the building sits to the rear of the site the redevelopment included the creation of a concrete tilt panel signage façade in the car park and closer to the road. This facilitates signage exposure to passing traffic on busy Redland Bay Rd.
Final fit out was done to the exact requirements of Amart Allsports who took a 10 year Lease and moved in during September 2006. Rebranded as a Rebel Sports store in 2018, this company is part of the Super Retail Group which includes other iconic brands such as Super Cheap Autos and BCF.
In our view refurbishments of this scale are more challenging than new construction projects and Isthmus was pleased to bring in a substantial offshore project on budget and ahead of schedule.
This property has remained part of the Isthmus portfolio via a wholly owned Australian subsidiary Company of the same name.